Team Manager's Toolkit for 1-on-1s
Posted on Dec 7, 2020. Updated on Apr 23, 2021
1-1s are the most important tool for every team manager. If done right, 1-1s can support the report to grow and to develop, to become and stay happy, motivated, and productive. However, you need a certain toolkit for 1-1s. This toolkit contains different 1-1 types, records, questions, personal notes, journey maps, and software that can be applied in practice.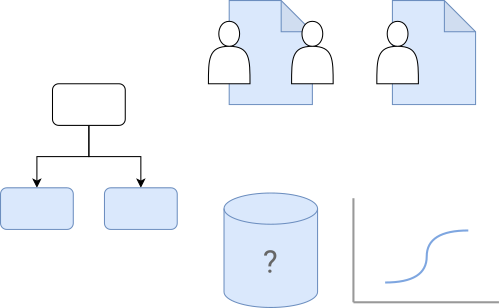 TL;DR
Distinguish between

frequent 1-1s for catching up and
less frequent 1-1s for feedback and development

Have a shared running historical record of each 1-1 about feedback and development.

I use Google Docs for this.
The record should contain the development goals, the exchanged feedback, and the agreements.

Find a way to manage your personal notes in an effective and structured way. For me, that's Asana and plain markdown files.
Use a Skill Matrix for fair performance reviews.
Have a dedicated question catalog for each 1-1 type.
Employee Journey Maps are a good way to reflect on the past time.
Why 1-1s?
Team Manager: "You can approach me at any time if you have a problem".
Reality: Nobody will come.
Why does this happen? First, employees wait for a suitable frame (like a 1:1). Second, the manager has to actively ask about what's going on and ask the right questions. That's their job. They should not pass the responsibility on to the employee. Third, especially in remote setups, 1-1s are crucial to keep in touch with the team and to keep the connection up.
Here is another motivation for 1-1s: One task of a team manager is to support each team member and to help them grow. Therefore, you need to know them. What are their strength and weaknesses? What motivates them and what are their development goals? At what level are they performing and how can they improve? All of those topics can be discovered and discussed in 1-1s. Moreover, the manager can set expectations and provide feedback to improve the performance of each report.
Organize 1-1s
Send the agenda and questions upfront via mail.
Reschedule missed 1-1s.
Tip: Don't put regular 1-1s on Mondays or Fridays. They tend to be canceled due to absences.
Rotate the questions you are going to ask.
The 1-1 Types
Regular 1-1s:

Catch-Up 1-1s
Feedback and Development 1-1s
Performance Reviews

Once only 1-1s:
Catch-Up 1-1s
Description
Frequency: weekly or bi-weekly.
Duration: 30 min - 1 h.
Catch-Up 1-1s are frequent 1-1s where the manager listens to everything that the direct report wants to talk about. The meeting should be driven by the employee. They should feel free to bring up every topic that they feel is important. This can lead to very interesting discussions. I encourage every team member to think about topics upfront.
Moreover, I use this 1-1 to privately ask them about their opinion about my observations or current issues in the team or company.
I also provide timely feedback - positive and corrective. Feedback should always be given in a timely manner. The annual staff appraisal (when you also discuss salaries and promotions) should never be the first time when the employee receives corrective feedback.
If the team member doesn't come up with own topics - which is fine - I have a dedicated question catalog for catch-up 1-1s.
Tools
1.) A tool for gathering topics. I use Asana where every report has their own to-do list containing topics I like to talk about. A more light-weight alternative is Microsoft To Do, which is used before Asana. Google Keep and Microsoft OneNote are more suitable for taking notes than managing to-dos but can also be used for gathering topics.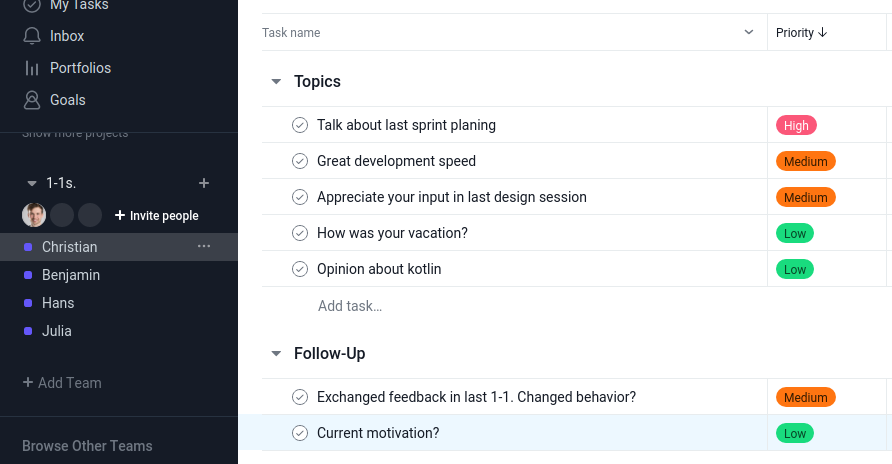 2.) Alternatively, you can use a dedicated chat channel with each report (naming schema: 1-1-NAME-philipp). In the channel, the manager and report can drop the topics that they like to talk about. Also, you can add a summary and actions/to-dos which are assigned to either the manager or the report. This way, you get a historical record of the 1-1s and both participants know what's coming up and can contribute. Ben Stewart proposes this approach in his post 'Slack for 1-1s'.

3.) Question Catalog. But I rarely use standard questions in this meeting. Usually, there is enough to talk about.
Feedback and Development 1-1s
Description
Frequency: At least 1x per quarter.
Duration: 1 - 2 h.
Feedback and Development 1-1s are devoted to mutual feedback, mentoring, and (carrier) goals.
A typical agenda of my feedback 1-1s looks like this:
Reflect on the time since the last 1-1. Employee Journey Maps are a great tool for this (see below).
3 - 6 questions that encourage the team member to reflect on their motivation, happiness, short-term, and long-term development goals.
1 - 3 questions about feedback for the manager.
A dedicated block for giving mutual feedback that has not been covered yet.
Tools
1.) A crucial part of those 1-1s is the record of all past 1-1s. It contains a summary of the most important findings, the exchanged feedback, the development goals (short and long-term), and a list of actions towards these goals or to correct a certain behavior. The record is shared with the employee after the meeting. The employee is asked to acknowledge the record which ensure the commitment of them. The record is also useful if you want to make a case for a promotion.
I use Google Docs for the running shared record. It allows restricting the visibility of a document and the employee can add comments without being able to change the content. Alternative commercial tools are Confluence (or any wiki) and the browser-based Microsoft Word (Office 365).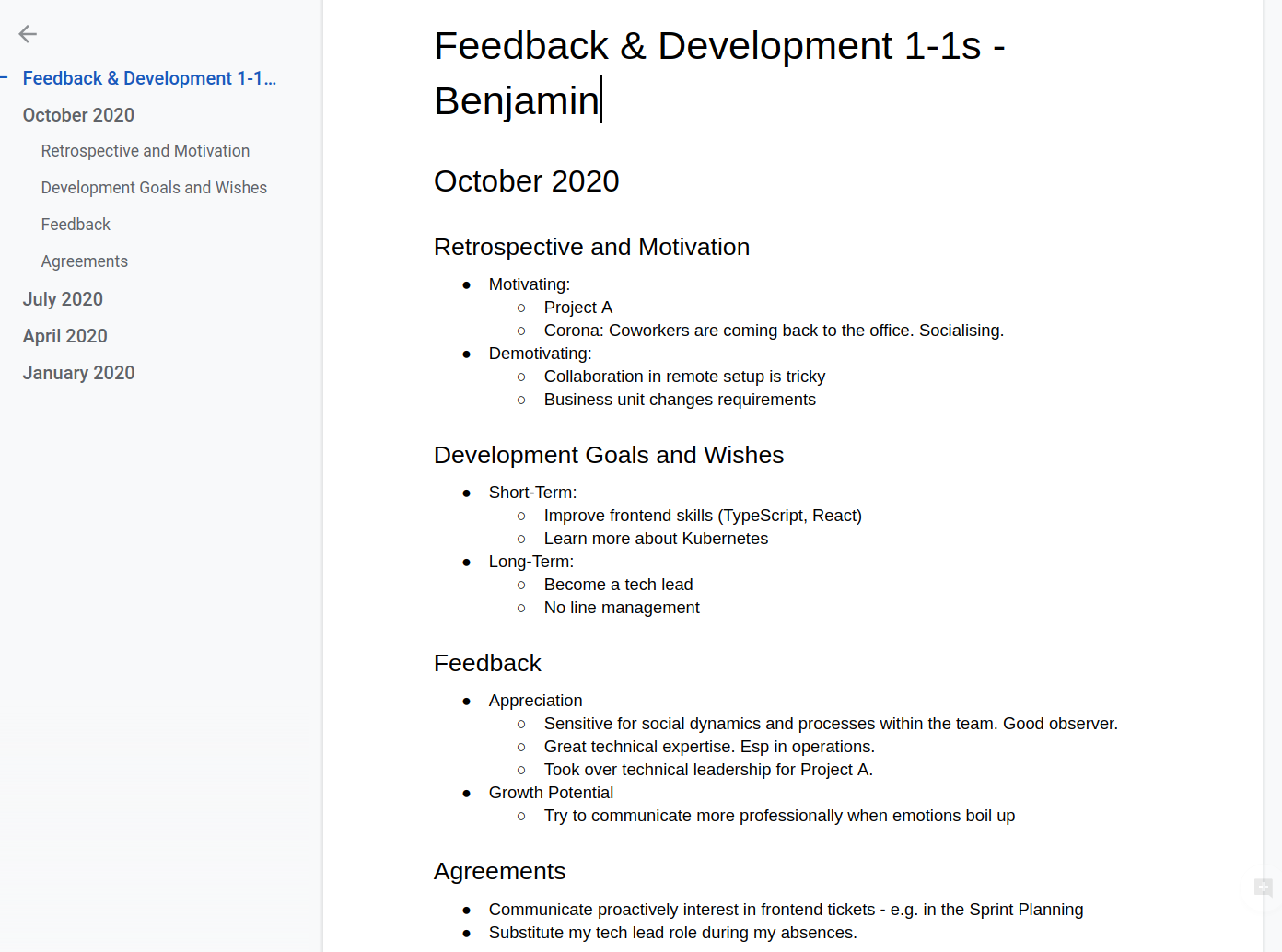 2.) Employee Journey Maps are a great tool for reflecting on the past time. They also reveal the motivation and feelings of the team members. Plus, the maps provide a good agenda where the manager can seamlessly anchor their feedback, appreciation, and mentoring.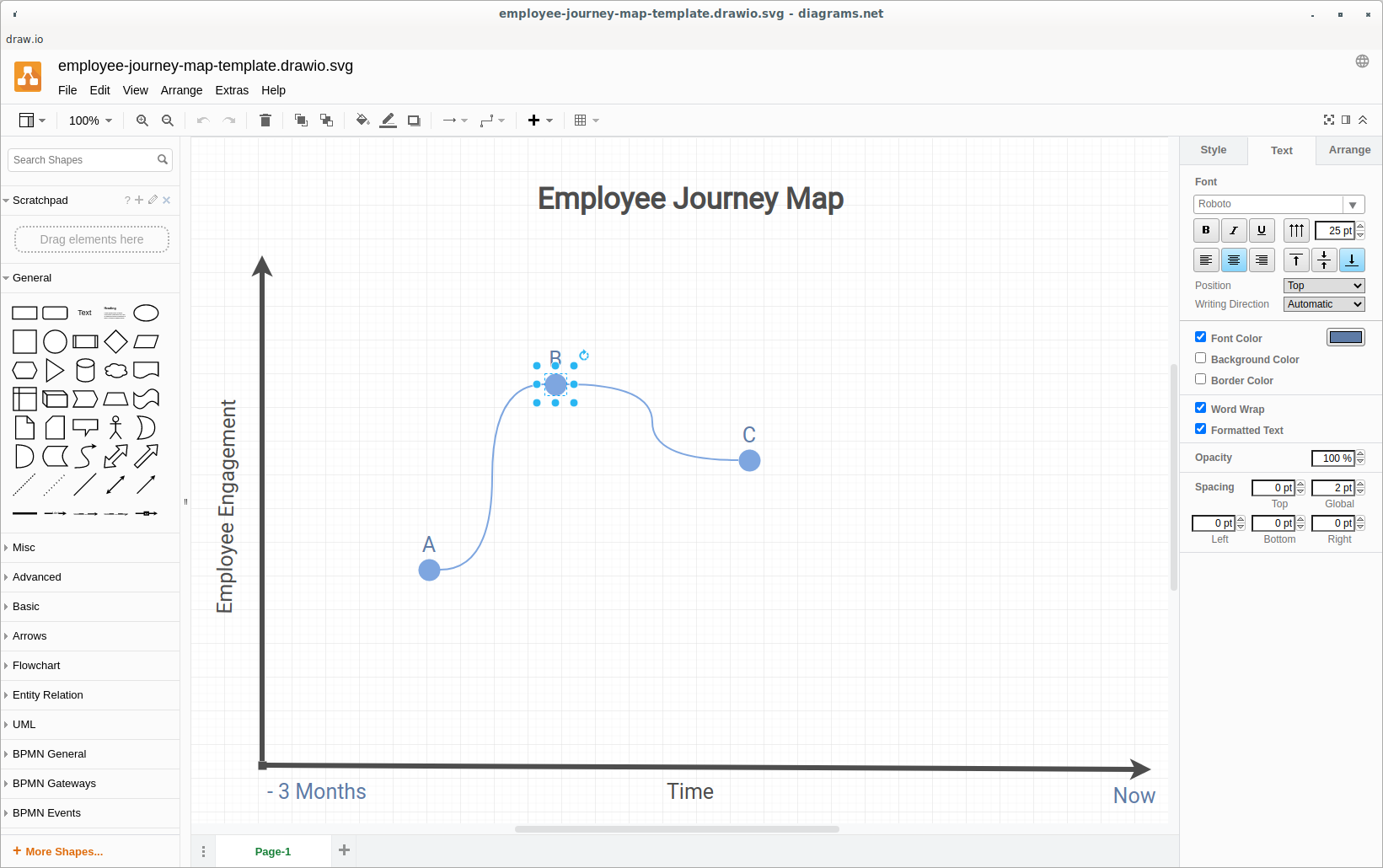 3.) Take your personal notes in a running document where every team member has its own file. Every time you see something noteworthy, make a short note in this file. I use Markdown files and Visual Studio Code for this because it allows easy navigation and editing via well-known shortcuts. Alternatives are Microsoft OneNote or Google Keep. You could also use office apps like Google Docs, Microsoft Word or LibreOffice Writer.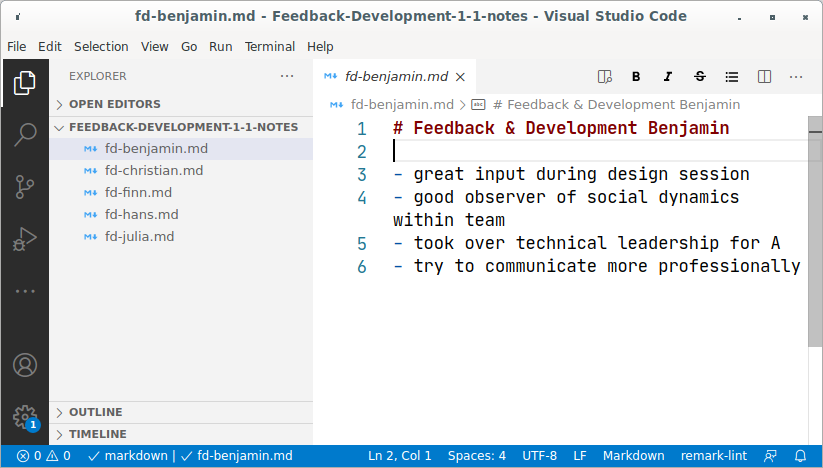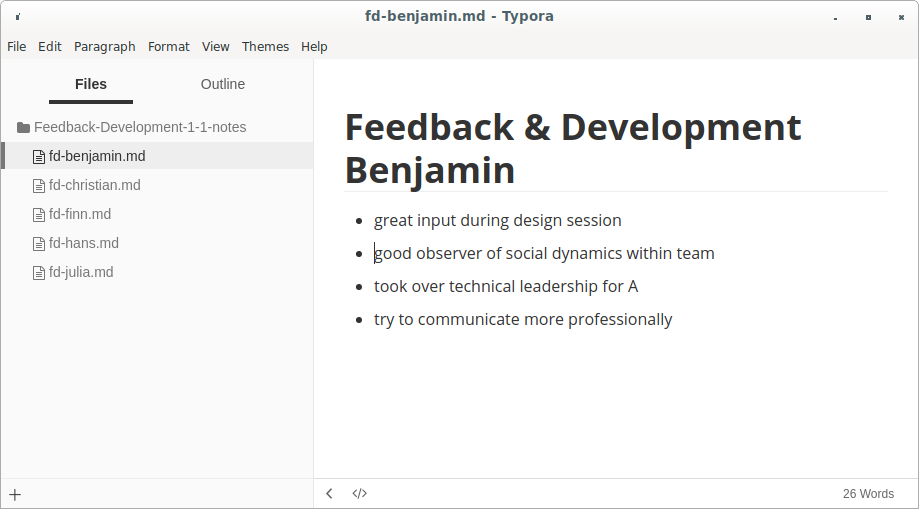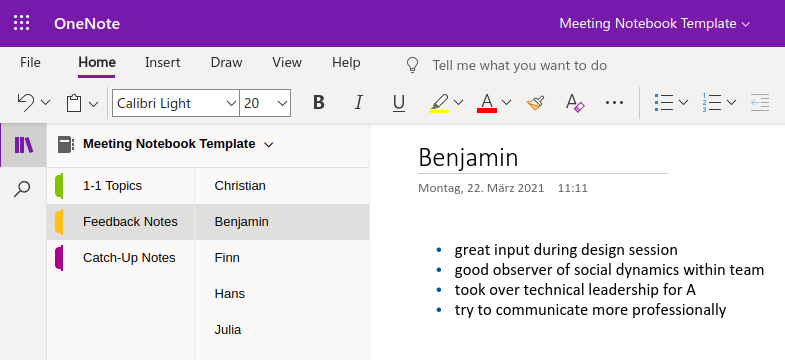 4.) Question Catalog
Performance Reviews
Performance reviews are a formal and standardized way to assess the performance of a report. The goal is to be more objective and fair. I use it as an alternative for the above "Feedback and Development" format once a year when we talk about salaries.
Given a set of skill, each report is asked to score themselves with 1 (need improvements), 2 (doing okay), 3 (doing well). Moreover, the manager scores the report in the same way. The skills highly depend on the profession. For software developers, I like the skill set that is proposed by David Kofoed Wind in this post. I adjusted it for me:
Correct in Production: Delivers features and changes in production that fully live up to the expectations of the person defining the task. Wrong things and bugs rarely end up in production.
Speed/Iteration: Tasks are solved fast. Produces code fast and gets things done.
Code Quality: Has good code style. Writes maintainable code. Writes efficient code. Finds a good balance between pragmatic and flexible solutions.
Internal Communication: Communicates early and often, and understands what needs to be communicated to the team. Is good at using internal communication channels. Makes it easy to figure out where they are on their tasks.
User Empathy and Product Understanding: Understands how our users use our products. Spots things during development that would make the user experience better. Is able to think beyond the specs of a specific task. What does the user actually wants? Are there any other solutions? Thinks about copy, empty states, warning messages, notifications and generally strives to provide value to users.
Responsibility: Proactively solves relevant problems without getting told so. Checks out metrics and logs on regular base without getting told so. Detect problems on their own and informs about them. Helps our stakeholders (e.g. in shared chat channels). After releases, they check and verify that our products are running well and correct in production (e.g. checking logs, metrics and data). Takes responsibility for not just own problems, but also problems created by others. Shows a feeling of responsibility for the quality of our products. Will go the extra mile to ensure that things are great and not just fine.
Technical Suggestions: Suggests and/or implements reasonable technical additions or upgrades to the current tech stack. Learns diverse technologies, techniques, and topics out of curiosity. Dives deeper into known stacks. Uses learning to improve our code and processes.
Social Behavior, Empathy and Team Collaboration: Being empathic and having human sensitivity. Is aware of and respects other's feelings. Minds the feedback rules. Cares about a good team atmosphere and the well-being of the rest of the team. Being a team player and helping other team members.
Professional Behavior: Acts and communicate in a professional way even in difficult situations. Strives for and accepts compromises. Is able to "disagree, commit and continue".
Optional Skills:
Code Reviews: Regularly does code reviews and do them well. Is good at helping others solve problems when needed.
Leadership and Planning: Takes responsibility for developing full-fledged features where one or more other developers are involved in the development of the feature. Turns difficult problems and underspecified goals into achievable projects. Anticipates dependencies and needs of stakeholders (other teams, users, customers). Defines success and how it will be measured. Creates plans and roadmaps as needed. Coordinates meetings (if relevant) and discussions to clarify things that are unclear.
Recruiting: Gets involved with the recruiting process, such as outreach, screening, and interviews. Gives referrals to potential hires. Takes an active interest in new hires and onboarding. Is part of screening calls, interviews and code tests.
The workflow is like this:
First, I create the following skill matrix and assess every report in each skill.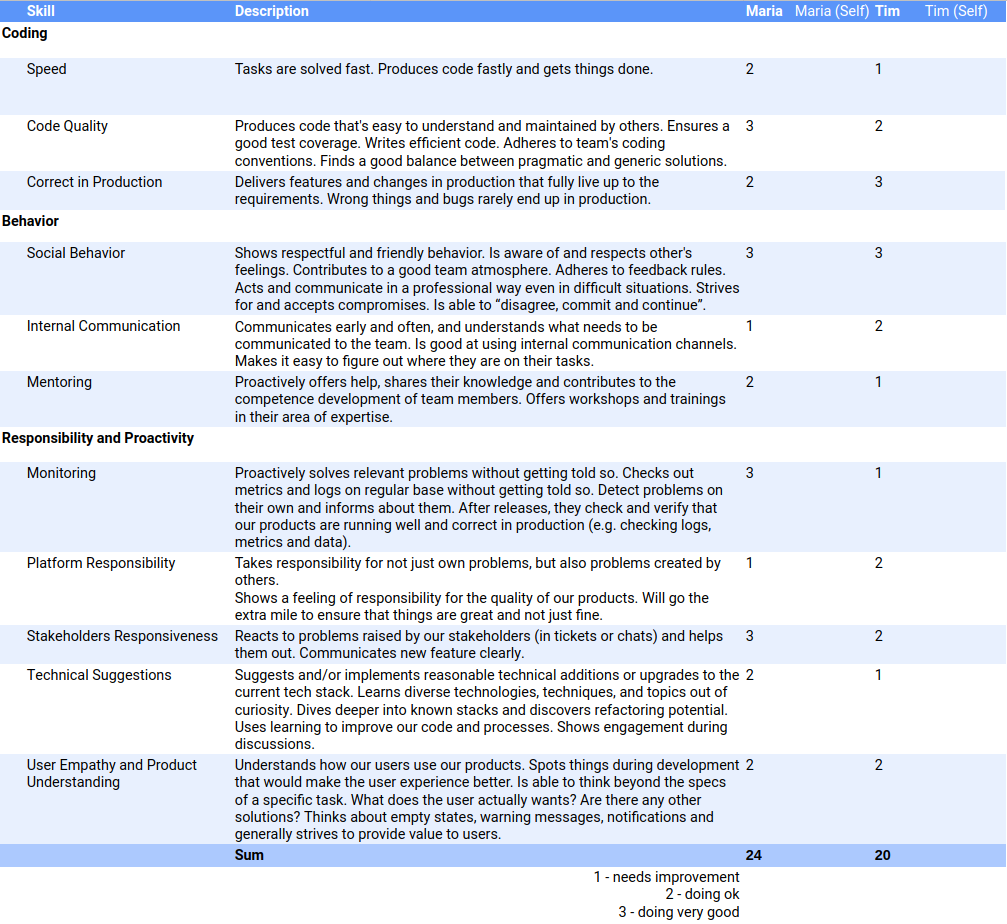 Using this matrix has many advantages:
Better argumentation for or against a promotion or salary raise.
Base your argumentation on the same set of skills for all reports. This helps to be more objective and fair.
Avoid biases like the recency bias or the halo/horn effect.
Next, the report is asked to access theirself. In the performance review, you and the report compare their assessments. Here comes another advantages of this approach: If the report already detects areas where they can improve, they might realize that they are not ready for a promotion yet. Most likely, you have a better acceptance of your decision.
Getting To Know You
Description
It makes sense to have a special 1-1 with every new report. This way, you can discover their goals, motivation, how they tick, and how they like to be treated.
The crucial part is the questions and that you document the findings. Those documents can be called "User Manual Of X", "Help-Me-To-Understand-You"-Document or "Team Member Canvas". Besides, these documents should be shared with the team member (like we do with the feedback record). Even better, it should be shared with the whole team so that everyone knows how a coworker ticks.
Tools
Exit 1-1
Description
Every time an employee leaves the team or company, it's very insightful to reflect on the past time. It is a great opportunity for the manager, the team, the leaving employee, and the company to learn and to improve. Don't miss that.
The only thing you need is a dedicated set of questions. Those questions aim for the reasons for the exit, the employee's ups and downs during their time, the aspects that went well, and the aspects that finally lead to the exit and should be improved. It's also interesting to ask the employee about their expectations regarding their new company. And last but not least, it's a good opportunity to exchange final honest feedback because usually there is nothing that holds them back anymore (like the fear of getting no salary raises or promotions).
Tools
Question Catalogs
Catch-Up 1-1 Questions
I rarely use standard questions in a catch-up 1-1. Usually, there is enough to talk about. Still, they can be an inspiration:
Most Important
Follow-up on last 1-1's topics
Would you like to talk about something?
Check-in
How are you?
What's on your mind this week?
Last time, we spoke about X. How is that going?
How's life outside of work?
Current Topics
What is holding you back at work?
What's one thing you did this month that you're proud of?
What's your biggest challenge right now?
What is motivating you?
What is demotivating for you?
Do you like your current tasks?
Team
How is collaboration with others (our team, other teams, stakeholders)?
How is everything going with people you work with/on your team?
Which coworker does a good job?
Misc
Do you enjoy working here?
Do you feel comfortable?
What do you think we could have done differently regards X?
Feedback And Development 1-1 Questions
Reflection and Motivation (subsumed by Employee Journey Maps)
What's one thing you did this month that you're proud of?
What can we do to make you more successful?
What has energized you in your role?
What has challenged you?
What has gone well/not so well for you?
Do you feel confident in how you/your team are progressing?
Motivation (see How to Motivate a Team of Software Developers)
Autonomy: Do you have enough freedom during your work? Can you contribute with your ideas?
Mastery: Do you believe that you can grow personally (tech skills, social skills, hard skills, soft skills)?
Purpose: Do you believe that your work contributes to improving things?
Goals, Development
Short-Term

Are there any skills that you'd like to acquire in the short term?
Where do you want to be in 2 years?

Long-Term

What are your long-term professional goals?
Where do you want to be in 5 years?

Are there any projects you'd really like to work on if you were given the opportunity?
How are you progressing towards your bigger career and life goals?
Is there someone at the company (or outside) that you'd like to learn from?
Feedback for the Manager
How can I be a better leader?
How can I support you?
Would you like more or less direction from me?
Do I give you enough feedback?
Psychological safety:

How easy am I to argue with?
How open am I to other people's ideas?
How good am I at listening to your ideas?
Misc
What's one recent win and one recent situation you wish you handled differently?
What's something nobody dares to talk about?
Is there something you need to succeed/be happy/be productive/be motivated?
Getting To Know You 1-1 Questions
I haven't created my own question catalog because there are already so many good ones. Check them out:
Exit 1-1 Questions
Introduction
What have been your reasons to leave us?
Reflection about past time
What have been your ups and downs at our company?
What are you taking with you from your time at our company?
What will stay in your memory?
What did you like about working at our company?
What didn't you like about working at our company?
Is there anything that we could have done to keep you longer?
If you look back on your time at our company, is there anything that you would like to do differently today?
Feedback for the manager
What have I done well?
Where can I improve?
Expectations about the new company
What should your new company do just like our company?
What should your new company do differently than our company?
What do you expect from your new company?
What do you expect from your new manager?
Contribution and Further Reading